Using a Freestyle Libre to monitor Oliver's diabetes mellitus at home
Signalment:
9 year old, neutered male, long haired Dachshund
History:
Oliver was diagnosed with diabetes mellitus and was started on insulin therapy (Humulin N 3 units twice daily). He was doing well with the insulin injections. However, Oliver had fear aggression at the hospital and in hospital blood glucose curves were difficult to achieve safely. There was also a concern that the significant stress may affect the glucose levels. They had been monitoring with spot glucose checks which had remained high. He presented to Gulf Coast Veterinary Specialists Internal Medicine service for further management of his diabetes.
Examination:
Oliver was anxious, alert and mildly aggressive on exam. He was starting to develop early cataracts in both eyes. Thoracic auscultation revealed no murmurs and clear lung sounds bilaterally. His abdomen was mildly distended with a mildly enlarged liver on abdominal palpation. Baseline Testing: CBC: Clinically unremarkable Chemistry: Hyperglycemia (Glucose 453 mg/dl); Elevated liver enzymes consistent with diabetes (ALP 1087 U/L; ALT 216 U/L); Hypercholesterolemia (cholesterol 510 mg/dL). Urinalysis: No evidence of infection Chest radiographs: Normal for age Abdominal ultrasound: Mild degenerative changes to kidneys; otherwise, normal
Assessment:
Oliver was believed to have uncomplicated diabetes mellitus that was not properly controlled on his current dose of insulin therapy. Before discussing diet changes or investigating other causes of possible insulin resistance, we wanted to get a full glucose curve to know how he was responding at home. Since this could not be reliably done in hospital and using a lancet to sample blood at home would be challenging with his temperament, a Freestyle Libre Continuous Glucose monitor was discussed.
Freestyle Libre Continuous Glucose Monitoring system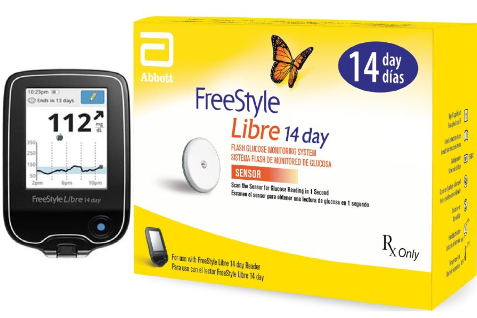 Sensor that adheres to the skin for 24 hour continuous glucose monitoring of the interstitial glucose
Each sensor lasts for about 14 days. Occasionally, they fall off or are ineffective before that time; if this happens, they can be easily replaced during a technician appointment or at home.
Accurate representation of blood glucose in dogs and cats

Accuracy is 93% for low glucose levels and 99% for normal and high glucose levels

Can replace blood glucose curves, fructosamine, urine glucose monitoring, etc.
Well tolerated with a few instances of discomfort from adhesive
Glucose curves can be automatically shared with veterinarian monitoring case through a portal
Can monitor trends over multiple days in their natural environment
Easy for owners to monitor and allows for quick responses during periods of hypoglycemia or when pet is not eating well
Oliver's Freestyle Libre experience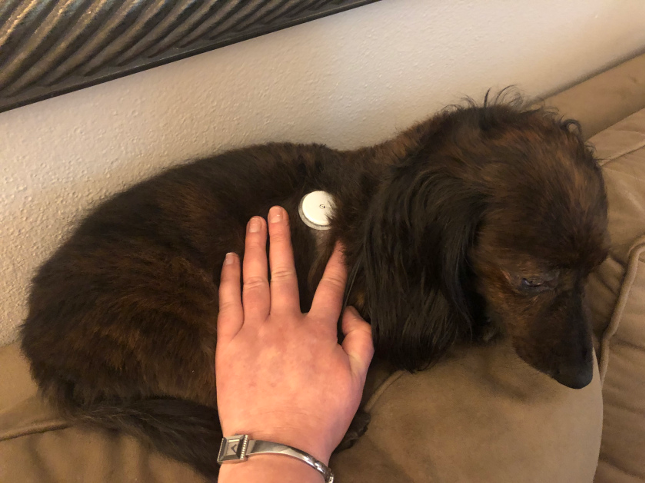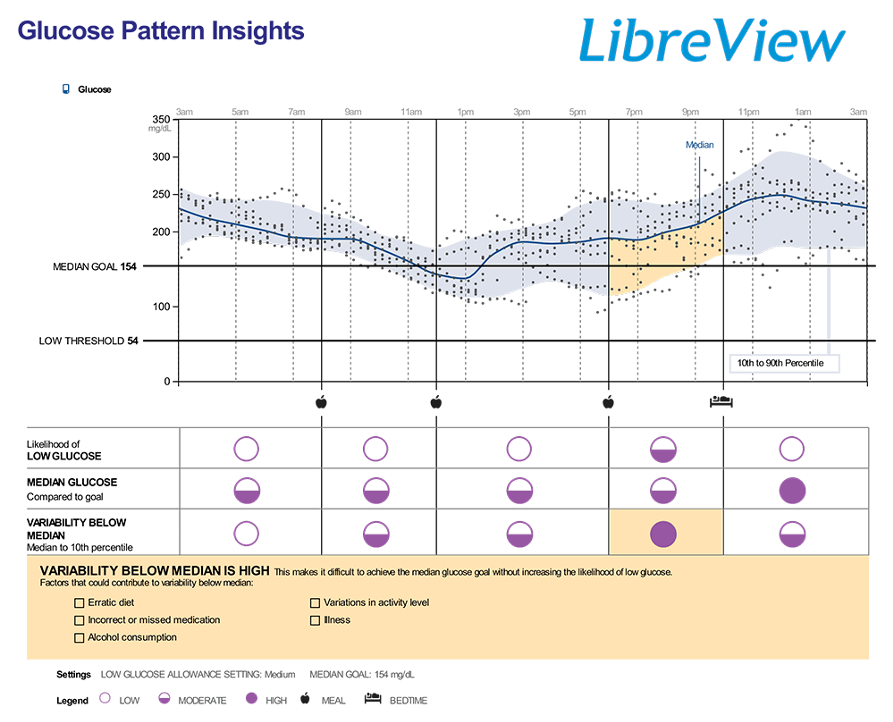 Oliver's Freestyle Libre worked wonderfully and allowed us to adjust the dose every few weeks until we found the perfect dose for him. Using this technology, we were confident in our dose changes and monitoring. Oliver now wears a sensor every few months when he needs another check but does not need it constantly as he is well controlled.